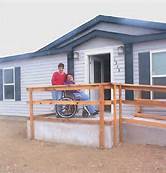 Did you know…?
The Department of Veterans Affairs grants funds to Veterans who have experienced certain service-connected disabilities to help them purchase, remodel, or construct a home to accommodate their disability.
If a Veteran qualifies, he/she can receive up to $67,555 in grant funds for specially adapted housing.
Is there a difference between the Specially Adapted Housing (SAH) grant and the Special Housing Adaptation (SHA) grant?
YES. For more information on the difference visit http://benefits.va.gov/homeloans/adaptedhousing.asp.
How does a Veteran apply for the grant?
To apply for a grant, fill out and submit VA Form 26-4555, Application in Acquiring Specially Adapted Housing or Special Home Adaptation Grant. You can access this form by:
Applying online via www.ebenefits.va.gov
Downloading VA Form 26-4555, Application in Acquiring Specially Adapted Housing or Special Home Adaptation Grant and mailing it to your nearest Regional Loan Center
Calling VA toll free at 1-800-827-1000 to have a claim form mailed to you
Visiting the nearest VA regional office. Find the office nearest you by visiting VA Regional Office Locations or calling VA toll-free at 1-800-827-1000