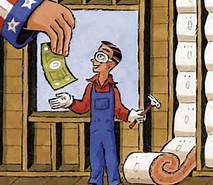 What is an EEM (Energy Efficient Mortgage)?
An EEM is a loan up to $6,000 made in conjunction with a VA purchase loan for an existing dwelling, or a refinance loan to add energy efficient improvements.
Who is eligible?
Any borrower using the VA loan program.
What type of home improvements can be made with an EEM?
Water heater insulation
Storm windows and doors
Heat pumps
Vapor barriers
Caulking and weather stripping
Furnace efficiency modifications
New or additional insulation
Solar heating and cooling systems
NOTE: Appliances are NOT eligible for an EEM.
How does it work?
EEM funds are held in escrow and dispersed after closing once all energy efficient improvements are completed. Funds will be dispersed directly to the contractor or to the buyer if the improvements were paid for by the buyer up front.
EEM up to $3,000: Buyer must provide a copy of the bid or contract itemizing improvements and cost prior to closing.
EEM $3,000 - $6,000: Buyer must provide evidence of cost of improvements plus certification that increase in monthly mortgage payments does not exceed the likely reduction in monthly utility costs.
All EEM's are subject to underwriting approval.